October
Federal vs Private Student Loans
This workshop explains key differences between federal and private student loans, and compares eligibility, interest rates, repayment plans and more. Participants will learn how to choose the option that best suits their needs.
Session 1:
Tuesday, October 10, 2023
12:30 p.m. CST
Session 2:
Thursday, October 19, 2023
7:30 p.m. CST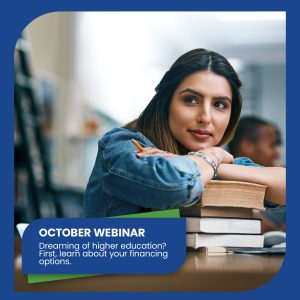 November
Breezing Through the Holidays
It may be called "the most wonderful time of the year" but December can also be filled with unwanted debt with holiday spending. Learn budgeting strategies and tactics to avoid that year-end credit card crunch and sidestep debt traps in the future.
Session 1:
Tuesday, November 7, 2023
12:30 p.m. CST
Session 2:
Thursday, November 16, 2023
7:30 p.m. CST