WASHINGTON–The first stimulus checks of approximately $1,200 are supposed to be sent to Americans this week, which has implications for both credit unions and their members.
Any "checks" paid this week will actually be electronic deposits, with the federal government saying payments will go first to those Americans who qualify for the program and for whom it has direct deposit information.
For credit unions, a flood of deposits could take place with much of deposits flowing right back out as Americans look to cover outstanding expenses. The payments are a big piece of the stimulus included in the CARES Act. The average American will receive $1,200 ($2,400 for couples) plus $500 for every child 17 and under.
There has been considerable confusion over when the payments will first be sent, but the Treasury Department has said the early payments will begin this week.
Meanwhile, the National Credit Union Foundation is offering direction to credit unions on how to help members handle the payments.
"How do we help them to use the economic impact payment safely and in a way that benefits their financial health and well-being during this difficult time," the Foundation asked.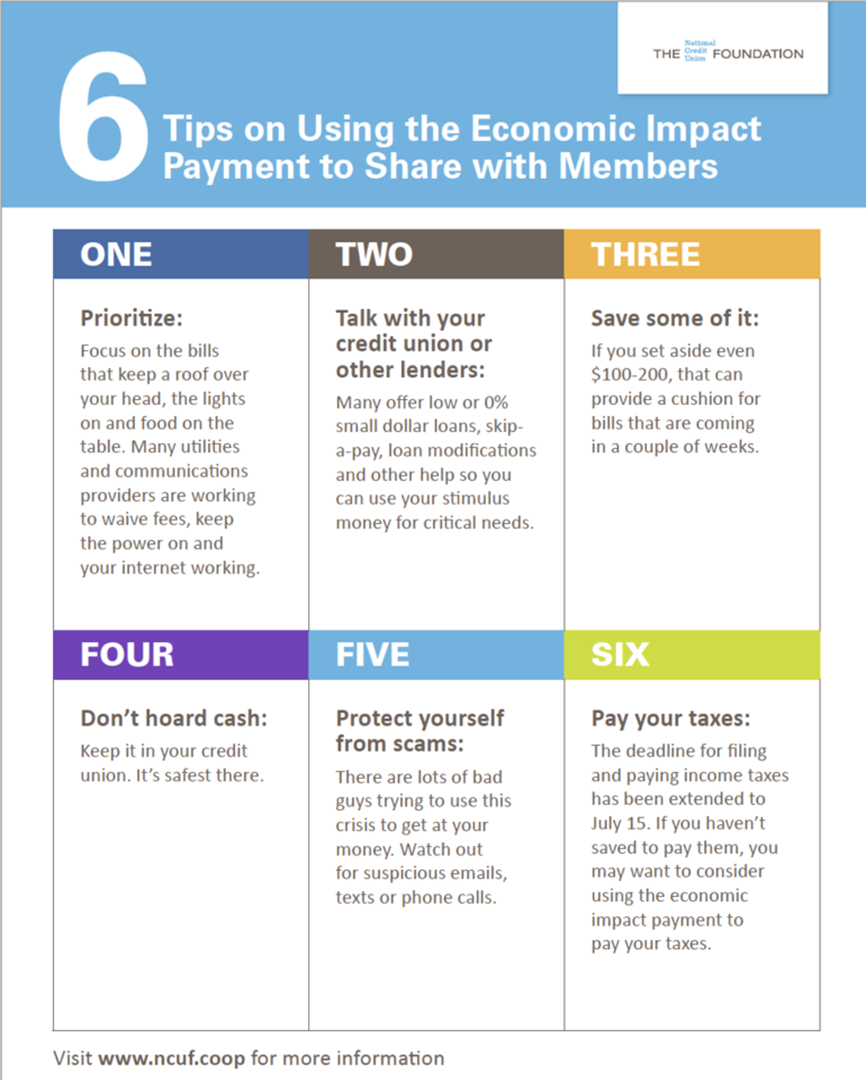 To that end, here are the six things the Foundation is advising credit unions share with their members:
Prioritize. "Focus on the bills that keep a roof over your head, the lights on and food on the table. Check with your local jurisdiction as many utilities and communications providers are working with consumers to waive fees, keep the power on and your internet connection working.
Talk with your credit union and other lenders. "Many are offering low or 0% small dollar loans, skip-a-pay, loan modifications and other sources of help so you can use your payment for what you need now."
Save Some of It."If you set aside even $100-200, that can provide a cushion for bills that are coming in a couple of weeks. America Saves has solid resources and information to help with access to food and unemployment benefits."
Don't Hoard Cash."Keep it in your credit union. It's safest there."
Protect. "There are lots of bad guys out there trying to use this crisis to get at your stimulus check and your money. Watch out for suspicious emails, texts or phone calls. Here's a great article that can help you keep an eye out for these threats."
Pay Your Taxes."The deadline for filing and paying income taxes has been extended to July 15. If you haven't saved to pay your income taxes, you may want to consider using the economic impact payment to pay your taxes."